Here is my satchel bag. The 'prototype'. LOL. It needs a few kinks worked out, and I think it will be better with some hardware to hold the straps on.
I really like the binding along the edges, but have to figure an easier way to put it on.
Here is a side view.
It has a zip pouch on the inside, as well as a few layered pockets, so you have plenty of space for pens, lipstick, phone, ipod, whatever.
It's deep, 11" from top to bottom, with two large spaces for putting all your stuff.
Now lets head over to Quiltstory, and see what fabulous things others are making this week.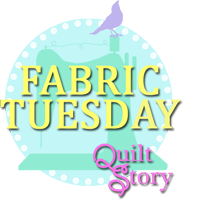 Look at what I won from Kate Spain, in the Moda blog hop! Aren't they cute?!
These little goodies are 2.5" square, and have 40 pieces of fabric in them. You can see one line is Central Park, and one is Lovely. Both are lovely fabric lines!
Thank you Kate!!
Thanks for stopping by, Dorian