Hello everyone!
I hope all of you that got a lot of snow and ice, are starting to thaw out. And that you're keeping warm.
Over at
Quiltstory
, the block party starts on Monday. Here is my contemporary block. Adding some of the Nicey Jane to my star block, made me want to play with it some more. I think this green and blue go so well with it.
The button....click here to see all who are entering.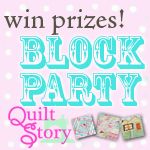 I originally made this block when I entered a block contest for Jackie Robinson. I have altered the original block I made up, just a little bit. It looks so Summery in blues/whites/greens!
So on Monday, I will put a link to this post on the Quiltstory blog. Then you visit all the blogs that have blocks, and look at all the lovelyness...lol.
Have a great day!
Thanks for stopping by, Dorian