To the best of my knowledge, I don't offer cookies on my blog.
You can stop cookies by turning them off in your own browser settings.

I don't knowingly or willingly share your information to third-parties.

I don't store your information unless you willingly share it with me to contact you later.
The information may include your name, email address, and blog URL.
Don't comment, If you don't want me knowing who you are. But I love your comments :)
If you do comment, expect an email back from me.
You can always email me privately if you don't want your name in my comment section.

I will link to your blog during blog hops. Thats what blog hops are about! So if you join the same
one as I do, expect your blog info in my post.

I may put a link to your blog in my post if you share something that I like.
Please let me know if you don't like the traffic coming from my blog to your blog.
I'll quickly remove the link at your request.

I have no control over what others take and use from my blog.

If you signed up for notifications of my blog posts, I take that as
agreeing to receive them since you signed up for them.

I really hope that Blogger gets this straightened out soon. Blogs are for SHARING what you are doing
making, etc. If you don't want people to comment and dont want to be involved, then turn off your comments.
(I had to read a few other blog privacy policies in order for me to understand the kinds of things I needed to say. I even used the same words as a few... but they are my friends, so I hope they understand.)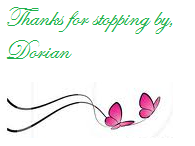 all rights reserved