It's fabric Tuesday again, over at Quilt Story...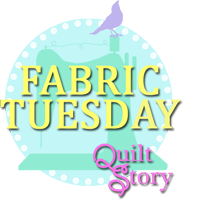 Besides finishing another
ditty bag
and finishing up the mystery quilt from the
Q&N
, I've been working on my disappearing 16-patches.
Here are all the colors I'm working with, 4 triangles of each.
I got the inspiration from Melissa, at Happy Quilting.
Here
is how she did her's. I chose to go with some tone on tone and solid prints, to put together with the petit fours I had of Lovely and Central Park.
I am just trying to figure out how I want to lay mine out. I don't want to do it the same way as Melissa, although that looks lovely. Just not the design I am looking for.
I could put them simply, like this.
Or put them like this...with or without borders or sashing. This purple and blue colorways are my favorite, although the yellow and orange color way from Central Park is right up there with them.
Pinwheels look neat too.
I want to buy some solid white, so I can play with sashing and borders.
What do you think? Have you done any disappearing 16 patches? I would love to see photos.
Have a great day.
Thanks for stopping by, Dorian