Hello Everyone,
I've been meaning to bring my old tutorials over from the Quilt and Needle blog. Jess has moved her blog and I want to have some of my old posts here on my own blog. Lea Anne, from
Podunk Pretties
, has given me a great reason to start moving them over. She has been doing a weekly
tips and tutorials linky party
, complete with prizes :) Thanks Lea Anne!
So today's tutorial is on mitered corners. I know there are various ways to do this, here is my way, the way I learned how, and it's pretty easy too.
Many patterns tell you to cut your borders at least 10" longer than what your quilt top is, when you want mitered corners. Even if you don't need that much, it gives you room so that you have enough. I often don't have extra, or I don't want to cut extra, for this. So I measure real close.
In my example here, my border is 2.25" wide. So when I cut the border fabric, I make sure I added 4.5" (that's 2.25" extra at each end) to how long a side is. This is a table runner, so I had 2 long lenghts, and 2 shorter lengths.
Fold your border piece in half, and mark the middle. Fold your project in half, and mark the middle. Lay your border rights sides together with your project, matching your middle marks, and pin. You can see that I overlap the project by 2.25" on each side.
Pin all along the border and sew at 1/4". Making sure you START and STOP 1/4" away from each side. Taking a few back stitches.
Find the middle of the next side border and that side of the project. Pin together. When you sew this next side on, be sure to START sewing right where your previous border seam is. That will be 1/4" from the project edge, NOT the first border edge
Pin all along and sew. Making sure to STOP at 1/4" from the next edge.
Continue around your project till all four of your borders are on.
Now, take one corner and fold it over till the top border meets the side border. You want to make a triangle and line the top and side border up.
Here's a close up, sorry it's blurry (it doesn't look blurry on the camera, and I don't realize it is till I put it on the computer).
You want to draw a 45 degree line, from the very corner of your project, to the corner of the border. If you gave yourself more room when cutting the border lengths, then your line wont reach the corner of the border. So make sure you use your 45 degree line on the ruler.
Now you want to pin this, so it doesn't move when you sew. Sew ON the line you just drew. Making sure you start right where your previous seams end at the corner.
Cut off the excess, making sure to leave 1/4" seam.
Fold open, press, repeat for all 4 corners.
And now you have beautiful mitered corners.
If you want to do a pieced border this way. When you are measuring and making your border, you need to remember to add in the width of each border, on each side. So in this case, my pieced border would have to be 4.5" longer, and then a corner of it would be cut off when I mitered the corners.
Hope this is helpful to some of you out there. It really is very easy. The important part is making sure you start and stop a 1/4" away from the edges of the project. In order to have the seams match perfectly in the corners. Very much like set in seams :)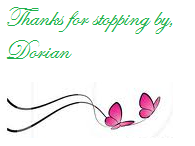 Copyright D. Lucas, 2011 This is my tutorial. You are welcome to use any of my tutorials for personal use. You are not permitted to use my pictures or my words without linking back to the original and giving me credit for them.