Good Tuesday morning! You know what that means....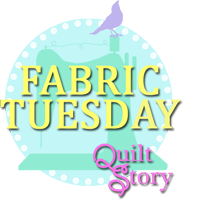 So here is my progress on my DP16 patches. I decided to go with this block.
I have 9 blocks, 2 each of all of them, except this red/blue.
I'll be ordering some solid white this week, to get these blocks in a quilt top.
~~~~~~~~
And now a finish.... This is my FQ bag.
My Grandma is 88 yrs old. She and her Mother both quilted, crochet and knitted.
My Grandma has headaches and dizzy spells, her eyes get tired easily....but she still can make her newest Great-Grand DD a quilt! I hope I am still quilting at age 88!!
So she emailed me a few days ago, and asked if I would make her another purse. She loved the one I gave her last year for her birthday, but needs one a bit bigger.
I hope Grandma likes her new purse!
Thanks for stopping by, Dorian